This talented and determined engineer invented the trailblazing Hovercraft.
Christopher Cockerell was born in Cambridge on 4 June 1910; the son of Sir Sydney Cockerell, curator of the Fitzwilliam Museum, and Florence Cockerell, an illustrator and designer.
From an early age Cockerell showed an aptitude for engineering much to the bewilderment of his more literary-minded parents.
Despite their dismissal of his 'garage-hand' hobby they provided the financial support for his early patents that enabled him to become a great inventor and innovator.
After education at Gresham's School in Norfolk, Christopher went on to read mechanical engineering at Peterhouse College, Cambridge. On graduating he started work for WH Allen & Sons, diesel locomotive engineers at Bedford, but after two years he returned to Cambridge for post-graduate research on radio projects.
An early pioneer
In 1935 he joined the Marconi Wireless Telegram Company and worked on pioneering aspects of television engineering.
During World War II he made a significant technical contribution by developing early radio navigation systems for the Navy and RAF.
Great vision
Cockerell left Marconi in 1950 and bought Ripplecraft, an unprofitable boat and caravan company based in East Anglia, which he turned into a flourishing concern.
He wanted to increase the speed of boats, and conjectured that by creating a thin layer of air under the vessel he could reduce drag.
In 1955 he used everyday items such as an empty cat food tin, a coffee tin and a hair dryer to demonstrate his concept, and soon built a viable working model of an air cushion vehicle, or "hovercraft".
Standing on the shoulders
The concept of an air cushion vehicle was not new. Eminent Isle of Wight engineers John Thorneycroft and Sam Saunders had both already looked at various ways of raising boats above the water to reduce drag, but they failed to produce a craft with sufficient lift and stability.
By containing the blown air with sidewalls and concentrating the underneath-pressure around the periphery of the vehicle Cockerell finally succeeded in creating an effective new method of amphibious transportation.
Design kept secret
Cockerell struggled to get Government and industry support for further development.
The Hovercraft was seen as having no viable defence use, but the design was placed on the secret list to prevent it from being stolen.
Eventually, in 1958 the hovercraft was declassified and Cockerell was introduced to the National Research Development Corporation (NRDC) who contracted Saunders-Roe on the Isle of Wight to carry out further research.
Settled on the Island
Cockerell moved with his family to East Cowes in the role of technical consultant. The first viable hovercraft, SR-N1, was shown to the public on the 11 June 1959 and on 25 July 1959 the SR-N1 successfully crossed the English Channel between Calais and Dover.
In 1961, development was continued through an NRDC subsidiary company, Hovercraft Development Ltd, based at Hythe on Southampton Water. Cockerell followed and Hythe became his home until he died in 1999.
Widespread recognition
The success of the hovercraft brought Cockerell widespread recognition. He was elected a Fellow of the Royal Society, and awarded a CBE in 1966.
In 1969 Cockerell was Knighted for services to engineering.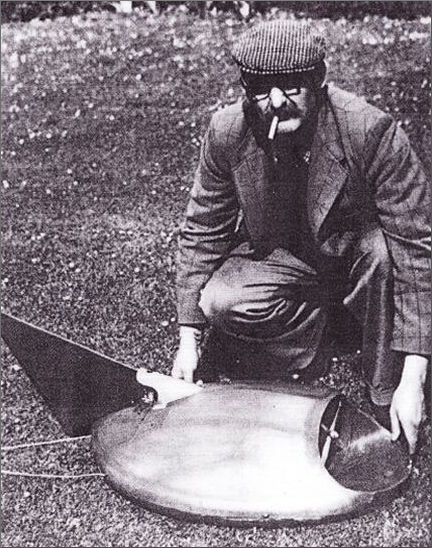 Christopher Cockerell displaying his first complete hovercraft pear shaped model 1955 © Classic Boat Trust